"Product design is changing. Today, engineers worldwide are working day and night to design products that are more energy efficient and less hazardous. 

The eco-design concept means that we analyse every step of the design process, and product lifecycle, with the aim of limiting the impact on the environment. This concept is now one of the lynchpins of our whole research and development strategy."
Details
'It's a wrap' Haute Couture gowns made fromrecycled packaging  for DHL by Michael Michalsky

 
                                   
"DHL is not a name usually associated with fashion other than for the packaging and transporting of it.
However for Fashion Week  DHL commissioned visionary german fashion designer Michael Michalsky to design a couture collection using only the full range of DHL packaging materials. This inspired collaboration  resulted in a beyond stunning collection that is worthy of any 'green carpet challenge'.
Designed to promote global shipping company DHL at Fashion week and in billboards and print ads, designer Michael Michalsky turned shipping and packaging materials into stunning haute couture. Conceived of by German agency Jung von Matt and photographed by Kristian Schuller, the images were used by DHL as a self-promotion campaign.
These uber eco-chic creations are some great examples of sustainable designs that any fashionista would be proud to wear, while brilliantly showcasing  the glamorous side of sustainable design. Made from discarded bubble wrap, brown paper and packaging tape DHL Haute Couture is the ultimate up cycled couture and is both innovative and very inspiring. These  magnificent gowns made out of discarded packaging will forever change  the way we view  used packaging.
Michael Michalsky is regarded as one of Germany's most influential fashion designers. He has worked as Design Manager at Levi's and Global Creative Director at Adidas before founding his own Label "MICHALSKY" 2006 in Berlin. MICHALSKY serves the high fashion segment by fusing classical styles with streetwear influences. Besides his work as fashion designer Michael Michalsky founded his design agency "MICHALSKY designLab" , which realizes design projects in the fields of product, interior design and corporate fashion."
Details
Iconic recycled paper accessories by Mary Design
"Hats made of  newspaper always bring to mind , a basic folded boat -shaped effort , best left to pre- school experts.  However Mary Design at the Minas Trend Preview in Belo Horizonte, Brazil, has crafted an exquisite collection of , catwalk worthy, graphic, iconic head and neck pieces that have taken fine layered, recycled paper mache from the humble beginnings of an art project to the international fashion arena.
The Ga-Ga esque head pieces that would not look out of place  on the cover of Vogue are inspired by  historical hat shapes such as the  1920's cloche hat , another refers to  planetary rings, a third re-interprets African ceremonial head gear and turns it into a Stephen Jones worthy iconic piece.
The creative process behind these extraordinary  accessories centres on a refined paper mache technique that  preserves the finely layered print, which is  legible when viewed at close proximity- adding another dimension to the wonders of this collection. If ever there was a collection of pieces worthy of the 'finding eco' Eco Icon title – this is it!!!  Paper recycling  like you've never seen before!!!"    http://findingeco.wordpress.com
Details
'Wearable Sculptural 3D Printed Art by Daniel Widrigs'
"London architect and artist Daniel Widrig has taken 3D printing to another level. He has created a unique, custom collection of wearable sculptures. His creations are abstract three dimensional forms , each one customised to fit the unique shape of the wearer. The soft and sinuous lines in Widrig's 3D-printed collection share the fluid lines and textures often found in  the work of his mentor  and visionary architect, Zaha Hadid  in whose practice he was significantly involved,  designing some of Hadid's most iconic buildings and products.
The collection is  made using  a polyamide material, with each piece being  laser-formed into  patterns that interact with the organic forms of the body. Created by taking 3D  body scans Widrig was able to customize each piece to the unique configuration of the model's body shape. Little Black Spine, for instance, is a piece that draws on the form of a skeleton and was designed to look like a natural extension of the model's spine.
Daniel Widrig  established  his own studio in  London in 2009, Widrig's studio now works in a broad range of fields including sculpture, fashion, furniture design and architecture.  Embracing digital systems since its early days, the studio holds a unique position in the field and is widely considered to be in the vanguard of digital art and design.                                                                  
Daniel has received international critical acclaim and has been published and exhibited internationally. He received a number of prestigious awards including the Swiss Arts Award, Feidad Merit Award and the Rome Prize. In 2009 Daniel was named Maya Master, a title awarded by the digital design community and software industry recognizing people reshaping and redefining the boundaries of technology and art.
The concept of creating unique wearable sculptures  to order means a transparent supply chain, no wastage and a small carbon footprint which apart from being covetable and exquisitely beautiful makes it more than worthy of being named Finding Eco Eco  Series 8 Icon No.9."
Details
'Iconic Plastic ' images by Tomaas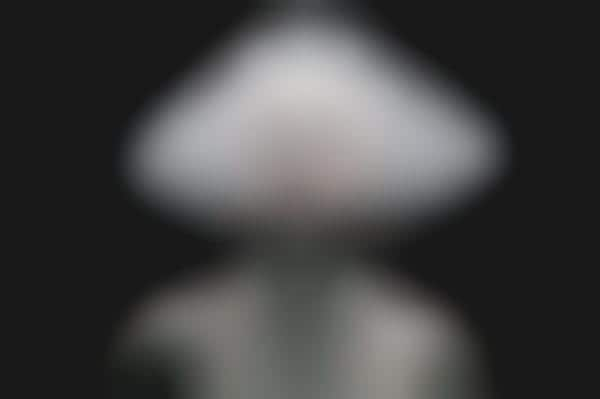 "The inspiration for these striking images for New York fashion  photographer Tomaas was 'plastic' in all its forms and formats. He used plastic cutlery, cling film, sheer plastic sheets, plastic bottles, straws and all manner of discarded plastic materials to create these iconic images.
Never ones to encourage the use of plastic…we at findingeco LOVE the  upcycling of plastic to create this series of  'plastic fantastic' photo art. Far better for plastic to be preserved on a wall than in a landfill !
Reminiscent of some paintings of the great Dutch masters..these images are both sensational and inspirational ."
Details
Silvina Romero's  vibrant sustainable jewelry collection
"Buenos Aires based desugner Silvina Romero has created a glorious, textural and vibrant collection of  sustainable jewelry or more accurately wearable art pieces. Using recycled pieces of fabric and textiles. Silvina started working with  textiles scraps  during the height of the Argentinian economic crisis about 4 years ago , collecting  discarded pieces of scrap fabric, thread, nylon, and more in a neighborhood called Once, where many of fabric dealers and manufacturers were based. Silvina's collections started out as 'Green by default' as she transformed  'trash into treasure' and has since achieved wide spread recognition  for her beautifully hand -crafted, and carefully considered  unique, limited edition pieces. Finding eco loves the organic natural shapes, the vibrant colours and the iconic shapes that Silvina creates as wearable art."

www.silvinaromero.blogspot.com
Details
The only way is UP!
The UP-SHIRT does it better than most.
"Fashion designer and environmentalist Reet Aus  has made up-cycling both her personal and professional  mission spanning  her up-cycled fashion collections to her costume design for films and theatre.
Having recently completed a Phd in sustainable fashion design,  Reet's research led her to Bangladesh, where she began a working relationship with a factory called Beximco who make garments for many well known brands.  Their manufacturing  process accumulates an excess of waste fabrics which Reet saw as a positive opportunity to effect change. gathering together a team of experts to use all the off cuts and create an up-cycled garment and the UP-shirt was born.
Every year numerous public events such as stadium sports events , concerts, or festivals print t-shirts for the event which more often than not after a couple of wears find their way to the bottom of a drawer or worse are thrown away. If we started to view each T shirt as a vast tank of water required to produce it, perhaps we would stop to consider the implications of our 'throw away' culture. Factory made t-shirts produce up to 40% wastage which in turn means that 40% of the cotton is grown for production is wasted   and vast amounts of water and earth resources are used, as well as the energy required to  spin the yarn, transport the material, the  factory's own energy consumption and the labour used in the production chain.
Using new up-cycling design and production methods it is now possible to  mass produce a t-shirt with a 80% smaller environmental footprint.
After many years of dedicated  research  Upmade came up with a design and production model to mass produce t-shirts using the 40% left over by traditional factory production methods.
Their mission is to  demonstrate that mass up-cycling works, with a view to ultimately reducing  the negative impact on the environment of manufacturing waste produced by the fashion industry.
Rees and her team have recently launched a Kickstarter Campaign to fund the development of the UP shirt. Support them here and give them a big heads UP!"
http://www.kickstarter.com/projects/466844291/up-shirt-the-tee-with-the-tiny-environmental-footp

Details
Branching out!  'Forms in Nature' create anindoor forest.
"We have lived with the concept of 'bringing the outdoors in' in interior design schemes but designers Hilden & Diaz have just taken this concept to a new level! The amazing design duo have created this unique sculptural lighting  piece as a homage to the  late Darwinist Ernst Haeckel's and his drawings.
This beautiful sculptural pendant light called appropriately "Forms in Nature" is inspired by the root formation of a tree. The light source nestled within it's centre, creates when lit, these oversized organic shadows that fill the walls of the space with undulating forms that create the illusion of a 'shadow forest'.
The light at the moment is in prototype stage and Hilden & Diaz are so committed to bringing their concept to market that they are getting ready to launch the product via a Kickstarter campaign. So look out for them on Kickstarter and watch this space  if you're interested in one of these pieces.
Finding Eco  LOVES both the concept and the piece and  we think it is worthy of being our Series 8 Eco Icon no. 3! So we will be watching their progress very closely!!!"
Details
Johan Ku's ' emotional sculpture collection'.
"Taipei  born Johan Ku began his free-lance graphic design career when he was 17. His acclaim started before he'd graduated from his Ba & later MA courses in fashion and textile design in Taiwan where he was awarded numerous Fashion Design prizes. In 2005, shortly after graduation, Johan set up his own studio and  twice took part  in Hong Kong Fashion Week in 2007. His highly recognisable signature designs  feature dramatic over scaled sculptural  forms that are as textural as they are organic in their aesthetic. Called 'the Emotional Sculpture collection'originally  created back by Johan in 2004, won the Avant-Garde Prize in Gen Art Style 2009 in New York. His work has been heralded a the  new rising star – "The Glory of Taiwan" by the fashion media.
In March 2010, Johan held his solo exhibition at the Taipei Fine Art Museum with his sculpture-like collections under the theme "Breakthrough". His creations have been defined as a new form of fine art, as international art collectors queue to acquire his textural master pieces. Johan Ku is currently based in the UK; having recently enrolled a Central Saint Martins MA fashion course, the artist is currently launching his autobiography soon to be published in July 2010..which is bound to be as compelling visually as it will be to learn more about Johan's unique combination of visionary talent combined with a drive and focus that belies his years.
If you want your art to be wearable, sustainable and collectable…johan Ku is your man."
Details
Natalie Smith's 'good enough to eat' sugarcoated jewellery


"British designer Natalie Smith has created a collection of jewellery pieces that ARE literally good enough to eat. The perfect choice for any one with a sweet tooth- you can now wear your next sugar fix. Beyond the obvious novelty value of edible adornment …..Natalie explores the concept of interactive, wearable art and takes it to a whole new level with her sugar-encrusted jewellery. Taking her inspiration from dark doom laden fiction and themes of impermanence and disintegration, Smith forms coloured sugar crystals into unique one-off creations.
Upon completion, each jewellery piece begins a life of transition determined by the environment in which it's worn and the ambient temperature of its surroundings- the more humid the conditions, the faster the sugar crystals melt,  gradually changing colour, and revealing the mix of metals and textures beneath their sugar coated exterior.
A real  multi functional, interactive and edible experience…turning your next sugar fix into a happening!!!"
www.natalielsmith.blogspot.com
Details
Architectonic 'eco jewellery' by Lisa Linhardt
"Eco fashion and bespoke jewellery designer, Lisa Linhardt, of  Linhardt Design ,New York ,says "lots of bling seekers have no idea what environmental impact their fashion choices have until they find her." As a designer she is totally focused on making "beautiful, sculptural pieces" but without compromising the planet's resources as she is  a 'green gold jeweller.
Linhardt buys 100% recycled gold from casting houses and refineries that extract it from post consumer material as opposed to being newly-mined. She can also melt the jewellery you never wear to form something new in her studio that is constructed with reclaimed barn wood . Whether the jewellery was hand-fabricated or cast, Linhardt jewellery is made with recycled precious metals. Whenever possible, Linhardt explores the boundaries of traditional jewellery materials by incorporating organic matter, such as bone, wood, and more.
Linhardt's designs are totally unique and embody an enviable fearlessness ,exploring standard practices of jewellery design and pushing them beyond the norm. The result is an artistic statement piece that communicates a sense of the individual without saying a word. Linhardt expands standard design limitations,viewing her pieces as sculpture and architecture on a small scale.
The ring ( featured above) was a commissioned piece inspired by another Lindgardt piece- a two finger ring. It is made of recycled gold with a milky smooth vintage ivory cabachon that was custom cut specifically . This ring has the ability to flip on to itself and can be worn either as a one-finger ring…and is as beautiful as it is sustainable.
Linhardt is constantly inspired by artisans around the world and has often participated in projects that give back to the artisans and their communities. One project Linhardt continues to take a great interest in is a her affiliation with the Kenya Education Fund – where a portion of proceeds sold in the NYC Gallery sends an African girl to college in her home country.
This is the best of 'no compromise' design…. definitely  all beauty and no beast….iconic ,sustainable design at its very best."
Details
Recycled Rubber Couture necklaces by 'My Sister's Art'
"Eco-artist Kathleen Nowak Tucci of   sister duo, My Sister's Art recycles discarded rubber bicycle  inner tubing  into unique couture jewellery pieces.. Her recycled creations made the cover of  Italian Vogue  September 2010 issue and were featured in the oil-spill editorial featuring Kristen McMenamy .
Tucci  repurposed rubber pieces have been given a new life as statement  wearable  gallery worthy art  pieces. Tucci, who minored in biology in college, is an artist by trade (watercolor, ceramics, polymer clay, precious metals) and an environmentalist at heart. After noticing the inner rubber tubing that her local bike shops threw away on a regular basis, Tucci gathered an armful and began experimenting.
Although Tucci's jewellery goes hand-in-hand with the current trend of statement pieces and layered necklaces, she said she has never looked to fashion for inspiration."My sister Margaret was always my muse because she wears avant-garde clothing and likes dramatic jewellery," she said.
"I have always been interested in design," she said. "I use the medium of rubber for my inspiration. It is black, flexible and lightweight. I have used my previous experience in many other mediums, to construct and design the jewellery line, which has been driven by the medium."
While Tucci's hand-crafted necklaces, lariats, and bracelets are iconic creations and fast becoming collector pieces, they are also addressing a very unresolved land fill issue. Approximately 290 million scrap tires are generated each year in the United States alone, according to the U.S Environmental Protection Agency. As tires don't biodegrade easily and they're rarely recycled and consequently they usually end up in landfills for perpetuity.
Though small in scope, My Sister's Art is doing its bit to turn a potential environmental hazard into gorgeous accessories—better adorning us then destroying our world.
Tucci is already focusing on her next collection …for men! She said she has even more ideas than she can create, as she has been extra busy keeping up with the orders for the current line. Her new men's line that will debut in November 2010."
Details
Peter Hogeboom's iconic porcelainpiece ' Spanish Collar '
"Dutch designer, Peter Hogeboom's iconic porcelain piece ' Spanish Collar ' takes centre stage as part of the 'A Bit Of Clay On The Skin' exhibition currently showing at the Museum of Art + Design in New York.
New Ceramic Jewelry explores the manifold appeal of ceramics, especially porcelain, in jewelry. Organized by the Fondation d'Entreprise Bernardaud and curated by the renowned German-born goldsmith and jewelry artist Monika Brugger, the exhibition showcases the versatility and allure of the medium, which can be modeled or cast, used alone or with metal, wood, and stone, and vary in color and texture. Best known as the stuff of the luxurious and the mundane, of fine tableware and technical equipment, when used in jewelry, porcelain sparks the visual and physical sensations to become an object of desire.
The exhibition showcases the scope and ingenuity of the more than one hundred works on view and features the work of 18 cutting-edge jewelry artists, including creations by such notables as Peter Hoogeboom, ( whose work is pictured above)
"Ceramic jewelry embodies the creative transformation of a humble Earth material by art and industry into a wearable object of great refinement and sensuality," comments MAD's Jewelry Curator Ursula Ilse-Neuman
Peter Hogeboom's hand crafted ,one -off necklace piece is spectacular in its concept and its boldness of vision. Using such a delicate material as 100% natural porcelain  to make such a dramatic statement piece, is clearly inspired.
Findingeco loves artists  such as Peter who push the boundaries of the capabilities of the materials they use in the creation of directional avant garde works to challenge our existing perceptions and forever pushing us forward to view things from a new perspective."
Details
Recycled Jewellery – Tonya O'Hara and Jeremy Mays
"Art works made from recycled materials are all the rage.  Most of them don't seem to work particularly well.
Two British designers have, however, produced attractive objects made from recycled materials. Tonya O'Hara produces rings (above) and earrings (below) made from recycled plastic bottles.
Jeremy Mays's work is even more ingenious. He makes beautiful jewellery from old, discarded books.
Most art made from recycled materials relies on the mere fact that it's recycled to get attention.  The art itself rarely holds its own. These objects, on the other hand, seem to be attractive and desirable in their own right with the fact that they come from recycled materials being an added bonus rather than their only selling point.
Looking froward to more, and ever more sophisticated, recycled offerings from the fashion and design industries.
The stories on both these artists came from Ecouterre – a great site that's worth a visit."
Details